Shoprite Money Market gets a new Queueing partner at its Golden Acre Store
Anybody that has experienced the Golden Acre Shopping Mall at month's end will know that it is an exciting but incredibly busy little corner of Cape Town. Located in the centre of the CBD, it is one of the busiest malls in the vicinity. Shoprite, one of the anchor tenants of the Golden Acre, sees a large amount of this foot traffic and it is not uncommon to see long queues at the Money Market section, which is where money transfers, bus & plane tickets, lottery tickets, accounts, gift cards, airtime and many other smaller services are performed. Shoprite has enlisted Emerge Queue as its Customer Journey Management Partner to help with the queue management at its Golden Acre store, specifically the Money Market section. The objective was simple: time spend in the queue is not only frustrating to customers, but it is time that they could have spend in the supermarket.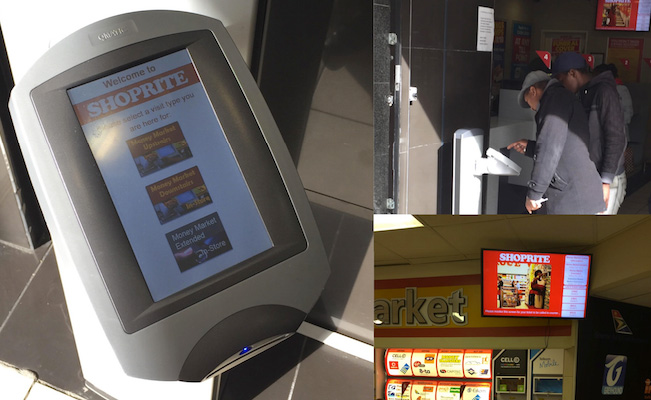 The solution was to install Qmatic Orchestra 6, an enterprise-class software customer journey management platform for organisations with distributed locations, premises and capabilities, with 2 ticket printers (one at each of the entrances) and media displays. The mapped customer journey was simple: clients join the queue by grabbing a ticket from the printers, which automatically adds them to the queue.
If there are less than 10 people in the queue, they can monitor their progress on the media displays. If there are more than 10 people in the queue, they receive the option to be reminded via an sms once it is almost their turn, which means that they can go to the Supermarket and do their shopping while they wait.
"We believe this is a game changing solution for Shoprite. Not only will it surprise and delight their customers, but the real-time analytics we can provide will really have a positive effect on their business operations'' says Eugene Swanepoel, Managing Director of Emerge Queue. "Well done to the Emerge team who have really put a great bespoke solution together, we are very proud of you".
Emerge Queue is the sole provider of Qmatic customer journey solutions in South Africa, as well as other neighbouring countries. It is a Qmatic Premium partner and the market leader in South Africa. For more information on any of its products and services, please visit www.emergequeue.com.