Qmatic Self-check-in Kiosks
Set the tone for outstanding customer experiences from the very first point of engagement.
Qmatic Self-check-in Kiosks are the ultimately way to greet your customers. It's a simple way for them to check in for appointments, find out where to go, what to do and how long the wait is going to be.
Purpose-built
Can be used individually or combined to suit your needs
You can add readers such as card, barcode or QR
Based on the fast, secure and reliable Linux system
Designed for low power consumption and the lowest possible TCO
Genuine Qmatic Tickets
The self-check-in kiosk presents customers with a Genuine Qmatic Ticket that shows their place in the queue. Apart from the queuing number, the ticket can also have a custom message on the back, presenting you with an opportunity to place brand messages, offers, directions or any other useful information directly in your customers' hands.
Qmatic Intro 17 Self-Service Kiosk
Built on an embedded platform to be smarter, and more function rich and fault tolerant
Centralises your branch solution in a sleek, fully connected unit
Designed and built by Qmatic to their highest standards for performance and reliability, including 24/7 use, all-in-one integrated design, and no moving parts
Lowest TCO with less hardware, replacement parts and power use, and Qmatic Care coverage
The only kiosk on the market enabled for Distributed Operations, meaning easier installation, lower environmental impact, and more functions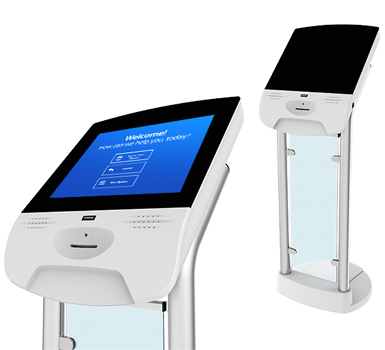 Qmatic Intro 8 Self-Service Kiosk
Convenient, powerful 8-inch touch screen device
Flexible services and languages display options
Installs on tables, walls or pedestals
Key lock security
Low power consumption with idle mode
Qmatic Intro 5 Self-Service Kiosk
Backlit buttons for easy visibility
Displays a controlled set of service options and information
Easily customize buttons for specific service names
Installs on tables, walls or pedestals
Key lock security
Low power consumption with idle mode
Operates as a standalone (Qmatic Solo) or integrated (Qmatic Orchestra)
Ultra-convenient size fits any kiosk functionality or size requirement